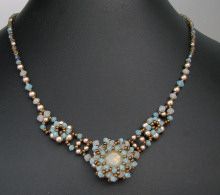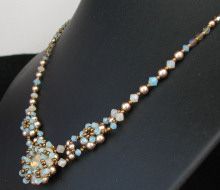 The Djerba set necklace with two tener colours lit up by light bronze pearls
This necklace presents a central pendant made with a Sand opal Swarovski fancy stone. Nearly 120 Swarovsky crystal beads are used to hancraft this stunning necklace, with tender colours.
Gold-plated clasp. The pendent mesures 20 mm diameter.
Kit includes everything needed plus 3 pages of easy-to-follow directions and diagrams.
24.50 € including VAT
Packed weight : 15 g

; Item code : kit_c_djerba_pac ; Difficulty level :
Discount depends on quantity
Quantity
Discount
Price for one
3
12.00 %
21.56 €
6
15.00 %
20.83 €
10
20.00 %
19.60 €