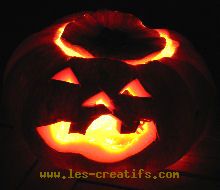 Cutting a lid for a jack o lantern
You just have to draw with a dry erase markers scaring eyes and mouth or the smiling faces as the trick-or-treaters enjoy.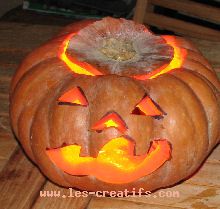 The adult cuts the top and the shapes with a sharp knife, then, the kids can use a large spoon to remove all the filling and seeds. With a candle or an LED inside your pumpkin... watch it glow !

With pumkin filling or butternut squash or small mad marrow, cook some delicious fall recipes !

Halloween crafts :
Frankenstein !




A fimo witch
how to make a fimo witch step by step


Halloween candle jars

House decoration
Witch glass painting

Halloween coloring pages and
puzzles to color and cut out




Welcome sign
Fall colors for this door decoration

Halloween cross stitch



A horrible halloween brooch
Wood and beads